Car-free in

Hatfield

Hertfordshire
Explore Elizabeth I's childhood home in a historic palace with intricate gardens, miles of parkland, a stable yard full of shops and cafes – and all this two minutes walk from the railway station. Hatfield House is an almost perfect car-free destination. The only thing that might make it better would be some kind of discount for people arriving by public transport. There are some other sights in the area too if you want to branch out, including a working flour mill, a watery country park and a riverside path.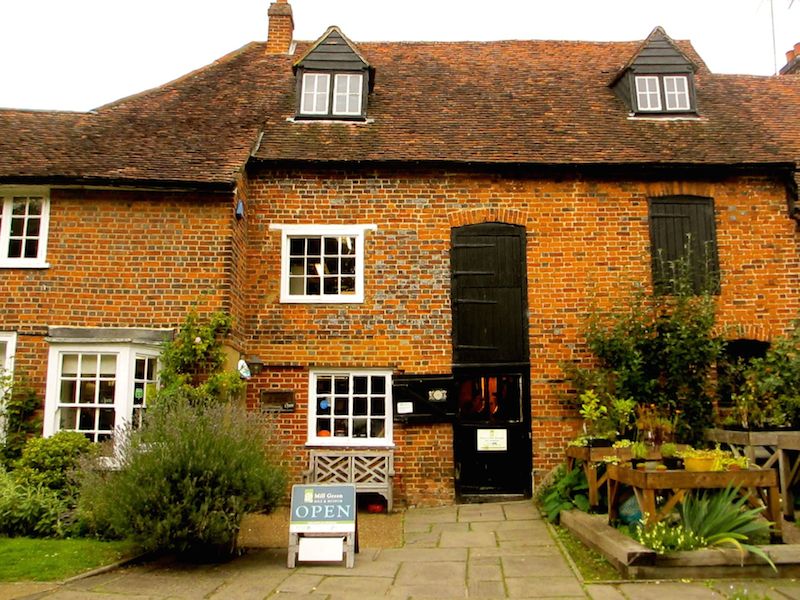 1. Hatfield House by train

The Bishop of Ely built a palace here in the fifteenth century and some of its ornate red bricks still rise over a Tudor-style knot garden. In 1538, Henry VIII bought the old palace for his kids and two decades later Elizabeth I was sitting under an oak tree nearby when she got the news that she was queen. Wandering around Hatfield House, phrases like "steeped in history" really do feel justified.

Trains take just over twenty minutes from London's Kings Cross station and a day return is about £12.
Cross the road outside the station and you're there!
It's open from Easter to the end of September, Weds–Sun and costs £19 (£11 without the house). It's one of ten "treasure houses" which run a 2 for 1 deal between them.
The opulent interiors are full of paintings and tapestries, including some of the most iconic portraits of Elizabeth.
Look out for artworks in the grounds and gardens too – like the face in one of the huge trees of the woodland garden.
Ask the ticket office for the free leaflet of Park Walks. Various routes, 1 to 3 miles long, run past 500-year-old oaks, a castle folly and a lake.
For a change of scene, exit left through Stable Yard onto Fore Street and stroll back to the station through Old Hatfield.
2. To the farm on foot

Feed the goats, pigs, sheep, ducks, cows or ponies at Hatfield Park Farm – a separate attraction in the grounds of Hatfield House. With animals, sand pits, bouncy tractor tyres, rope bridge and tree house, it's heaving in the holidays. But go by train and at least you'll avoid the traffic.

The farm's a ten-minute walk from Hatfield Railway Station, near Stable Yard. Ask at Hatfield's pedestrian entrance, opposite the station, for details
There are free tractor and trailer rides round the farm and a miniature train for an extra £2.
It's currently £6 to get into the farm and play area.