Five fabulous car-free

Spring adventures

from London
Spring adventures car-free. Seafront galleries with light airy rooms, landscaped parks and baroque palaces, valleys of daffodils and fairy tale turrets, camellia-hung woodland walkways leading to hilltop gardens, boat trips to riverside pubs and museums of maritime history... here are just a few of the car-free adventures within relatively easy reach of London. Take the train to Eastbourne and walk along the sand or the bus from Chelmsford to Hyde Hall gardens and stroll through the blossoming trees.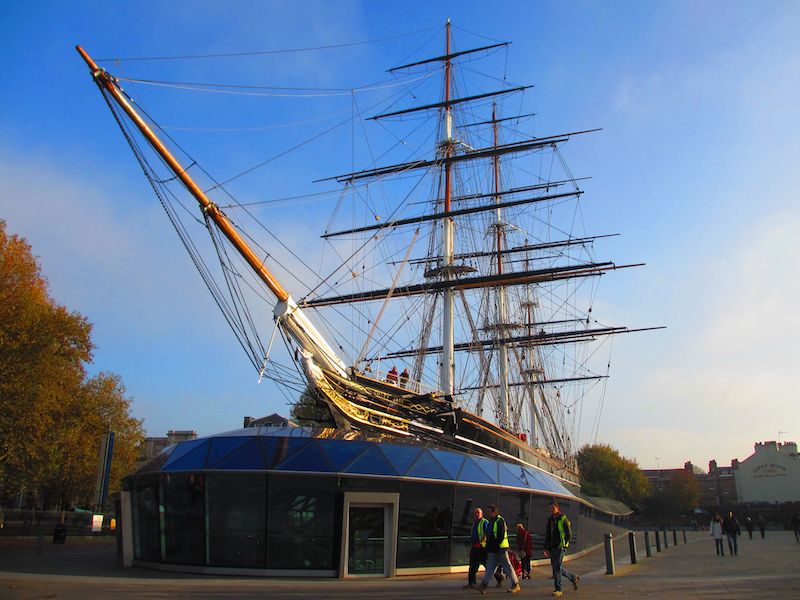 1. Coastal Culture trail

Three stunning galleries and seventeen miles of coast plus ancient alleys lined with great pubs and colourful half-timbered houses: whether you're looking for cutting edge conceptual art or simply bars and beaches, this is a winning day or weekend trip – and it's easy to get to. Eastbourne, Bexhill and Hastings are not far away on the Sussex coast, joined by train, bus, coastal walks or cycle rides.

Catch a train from London Victoria to Eastbourne. Trains leave frequently and take 1½ hours to get there through pretty countryside. Book ahead to get cheaper tickets!
Head for the friendly Towner art gallery, a stylish contemporary building that won awards when it opened ten years ago. It's just a ten-minute walk from the station and has changing exhibitions. The seafront is nearby, lined with palm trees and grand hotels.
Next, hop on the 99 bus and buy a day ticket. It leaves every 20 minutes from opposite the pier, and ride along Easbourne's miles of sand to Bexhill's De La Warr pavilion, a 1930s cliff of white with curving glass balconies, a free art gallery and a wonderful sea-view café. Follow Good Journey's directions.
Hop on the 99 again (or walk/cycle five miles with the sea on your right) to reach yet another gallery: the shining glazed tiles of Hastings Contemporary (previously the Jerwood gallery) have reflected the colourful old town since 2012 and the cool spaces offer unbeatable views from the window and art on the walls. There's another great café, where you can sit on the balcony with a fish platter and watch boats in the Sussex sunshine. Follow Good Journey's directions.
When you've finished, head for All Saints Street, two minutes away in the old town, where there's a choice of cosy pubs in characterful buildings. The station and nearby 99 bus stop are a twenty-minute walk or so.
2. Blenheim Palace and Oxford

Whether you simply want to wander through the dreaming spires or spend a day at mighty Blenheim Palace, you're better off visiting car-free. Oxford's streets are so choked with traffic that drivers will struggle to get anywhere quicker than visitors who go by foot, bus or bicycle. And Blenheim offers car-free visitors 30% off entry.

There are trains to Oxford from Marylebone and Paddington; the Marylebone line has some good advance fares. The journey takes an hour and the city is a short walk away. There are plenty of suggestions for things to do in our car-free guide to Oxford.
To visit Blenheim Palace, hop off the Marylebone line one stop earlier at Oxford Parkway and catch bus S7 from Stop E. The bus journey takes just 20 minutes and drops you at Blenheim's gates on the main road. Stroll along the driveway, with views over Capability Brown's landscaped park, to the palace and show your bus ticket at the gate to get 30% off entry.
Heading inside the palace, follow the red-carpet walkway through the Great Hall, with its painted ceiling, to writing rooms and saloons, state rooms and the spectacular Long Library.
Stepping out into the gardens, walk through the west colonnade into the lovely water terraces. Turn left across the South Lawn for more views of the palace and into the elegant Italian Garden. The gardens stretch south, through rockeries and roses to a beautiful cascade.