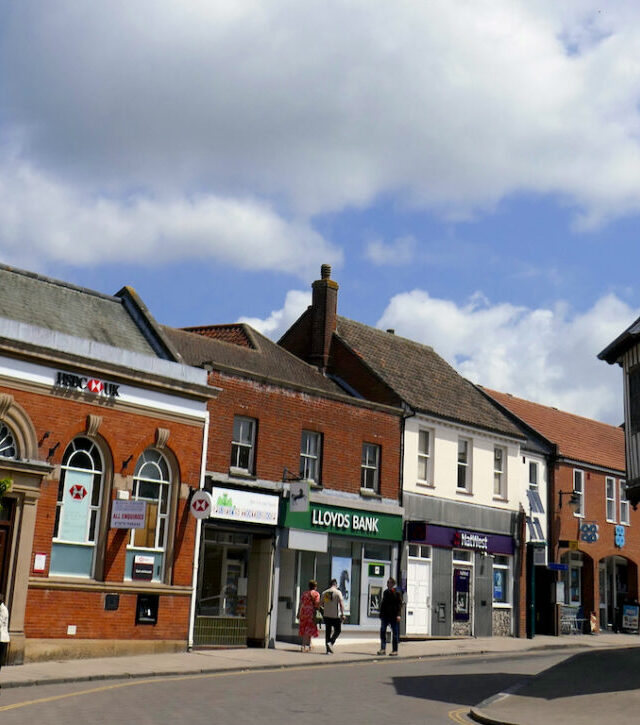 Car-free adventures around

Wymondham

Norfolk
in partnership with
Ten miles west of Norwich, the lovely Norfolk town of Wymondham has an extraordinary abbey, whose towers soar over the surrounding landscape, and an octagonal half-timbered market cross. With a railway station, regular buses, a cycle route to Norwich and a network of paths, Wymondham makes an excellent base or destination for car-free adventures. Here are a few suggestions for days out in the area without driving.
1. Visit Wymondham Abbey

William d'Aubigny founded a monastery here in 1107 with a church that was twice as big as the majestic building you can see today, but with shorter towers. Walk round to the South side of the abbey to see the ruined arch of the monastic chapter house. In the field nearby, the remains of walls show where the monks once lived.
2. Cycle from Norwich

One great way to get to Wymondham is by bike – either your own or a Beryl Bike, available across Norwich and beyond. One possible route, via Eaton, passes close to the University of East Anglia with its fabulous art gallery and sculpture park (see 3 below), the town of Hethersett, where you can stop off for refreshments, and ancient Kett's oak (see 4 below).

How do I get from Norwich to Wymondham by bike? You can read about the route here and download a map of cycle routes across Norwich here.
Where can I rent a bike in Norwich or Wymondham? There are turquoise Beryl Bikes to hire via the app outside Norwich station. Simply turn left out of the station doors and follow the covered walkway to find them. Nearby, there are live-sized metal silhouettes or Stephen Fry, Edith Cavell and Admiral Nelson – three famous people from Norfolk!
Do I have to cycle back? You don't need to cycle both ways if you don't want to. There are regular trains back from Wymondham station. Or buses 6 and 13 if you've come by Beryl bike. You can simply leave your Beryl bike locked up in the Beryl bay just off Market Street, almost opposite the White Hart. If you have your own bike, you could take it back with you on the train.
3. Where can I stop along the way?

Art lovers with time to stop off shouldn't miss the Sainsbury Centre and Sculpture Park at the University of East Anglia. It's a short detour from the blue cycle route in Norwich with plenty of places to lock your bike and several Beryl Bike bays. There are also woods and lakes to explore (see 4 below).

Inside the Sainsbury Centre, there are dancing figures from ancient Chinese tombs or snow goggles from Alaska, unsettling fibreglass figures by John Davies and etiolated bronzes by Giacometti. There are paintings by Modigliani and Picasso, Leonora Carrington and Francis Bacon. And when you need a break, there's a great cafe too.
In the surrounding parkland, wander past metal beasts by Lynn Chadwick and Henry Moore's reclining figures. Look out for statues by Anthony Gormley and Vladmir Tatlin's tower, all scattered across 350 acres of grass, trees and water around striking modernist buildings, designed by architects like Denis Lasdun and Norman Foster.
Seven miles south-west, Wymondham is packed with places to eat and drink, but you can also stop off around half way in the village of Hethersett for refreshments at the welcoming Kin café or the Queen's Head pub. Janey's Village Café, a little further into Hethersett, is open until 2pm Wednesday to Sunday and serves stonking breakfasts, homemade soup and legendary cheese cake.