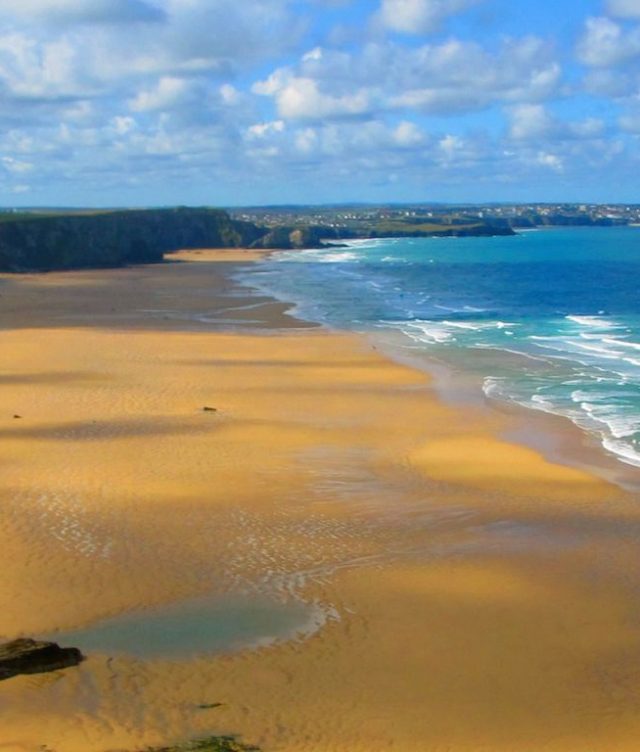 How to get to

Beaches

by train
"Oh I do love to be beside the seaside"… As the days get longer and the sun feels warmer, we all want to head for the coast. But an overheated car is the least appealing way to get there. Here are nine beaches you don't have to drive to. And once you get there - more options for exploring by bus, boat or on foot.
1. Newquay and Par

With a dozen sandy beaches at the far end, the Atlantic Coast Line (one of Cornwall's scenic community railways), is a little branch line that runs from Par to Newquay, three quarters of an hour away across cotton-grassed Goss Moor.
2. Weymouth

There are royal connections in this iconic Dorset town: when George III went famously mad, his doctor sent him to Weymouth as "the Resort of many people of the first Distinction".

Turn right out of the station onto Queen Street, past the Railway Tavern, and left into King Street to see the clock tower ahead of you on the Esplanade. This bright red landmark commemorates Queen Victoria's jubilee in 1887.
There's a statue of Queen Victoria to the left, Rossi's Ice Cream parlour (opened the year Victoria became queen) just a few paces to the right and – ahead of you – Weymouth's famously long and sandy beach.
Continue right towards the ferries and attractions at the south end of the beach and you'll soon pass a statue of George III, who made Weymouth fashionable with his love of swimming in the sea. There's a replica of his bathing machine nearby, a sort of beach hut on wheels.
From the King's Statue, you can hop on bus X53 towards Axminster and enjoy one of Britain's top scenic bus rides, along the picturesque Jurassic Coast, taking you to other Dorset beaches like West Bay – the real life Broadchurch!
3. Brighton and beyond

There's more Georgian seaside splendour in sunny Sussex. It was George IV who made Brighton fashionable, building the ornate Royal Pavilion as his Regency beach hut.

Trains from Victoria Station in London take an hour to get to Brighton and the beach is a ten-minute walk downhill.
Walk straight out of the railway station along Queens Road and you'll soon see the water shimmering ahead of you and, at sunset in autumn, huge murmurations of starlings circling mesmerisingly over the old pier.
A scenic coastal bus ride away on bus 12X  is elegant Eastbourne. On the way, soon after Seaford, the bus stops at Exceat beside the Seven Sisters Visitor Centre and Saltmarsh Cafe. From here you can follow a meandering estuary down to the sea or walk over the lighthouse-topped Seven Sisters – one of England's best cliff-top walks.