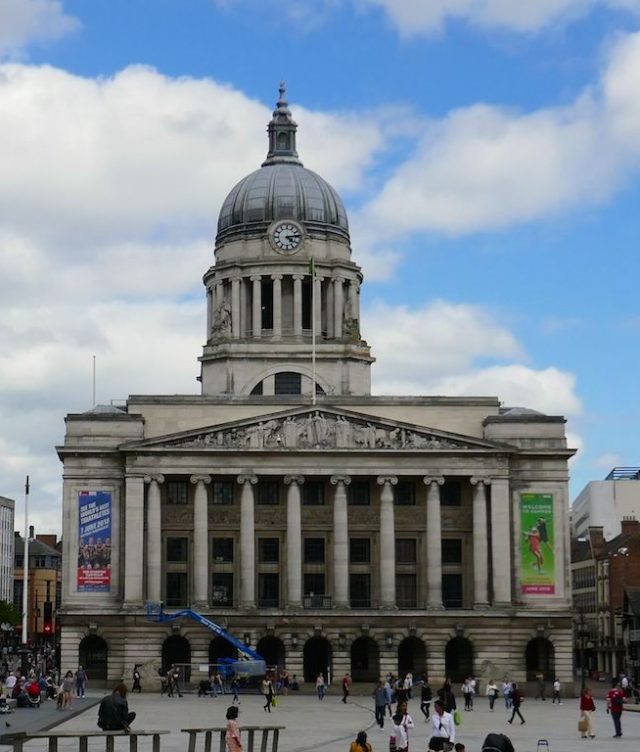 car-free

Nottingham guide

East Midlands
Lacemaking and literature, Robin Hood and craft beer: Nottingham is a many-sided city and a great place to explore. Regular trains arrive from all over the country, including London St Pancras, Liverpool, Lincoln. And skylink buses run from East Midlands Airport every 20 minutes. Nottingham's prize-winning public transport will take you all over the city and beyond. By bus, tram, bike or simply on foot, you can find unusual museums and galleries, flowering parks and pretty shopping streets, underground caverns and really old taverns.
1. Become an underground explorer

Several attractions, from the Museum of Nottingham Life to the Malt Cross bar (see 7 below) feature one of Nottingham's hidden wonders: a network of nearly 500 caves and tunnels, cut by hand, underneath the city. It's thought there may be as many again that have not been fully explored yet.

The City of Caves, in the Broadmarsh Shopping Centre, is the city's largest accessible collection and one of the best places to visit these subterranean marvels, adapted by humans since Anglo Saxon times.
A series of different chambers demonstrate the uses of these caves through time: pub cellars, secret meeting rooms, cesspits, slums, and air raid shelters.
As a crash course in local history, it's a great way to kick off a tour of the city – at one point you can see seven centuries represented in the archaeological layers of sandstone and rubble, from the brine pits of a medieval tannery, still sunk in the floor, up to the concrete floor of the 1960s shopping centre overhead.
Head down the shopping centre's stairs near Bridlesmith Gate and Lace Market to find the entrance. The caves are open every day, and include an audio guide (or human guide at weekends).
2. Visit the National Justice Museum

A museum of justice might sound a little dreary, but don't be fooled – this is a fascinating place, full of tales gory enough to entertain even cynical teenagers. The courtrooms and prison cells of Nottinghamshire's former County Gaol have become a lively museum and sister attraction to the City of Caves. The National Justice Museum is a great, maze-like series of exhibits juxtaposing the violent history of crime and punishment (a cat-o'-nine-tails, gibbets and pillories, stocks and scold's bridles) with philosophical questions ("what is prison for?"). Actors recreate historical trials in the authentic courtroom and tell stories of incarceration and reform.

Crawling with rats and continually serenaded by clanking chains, prisoners locked in "the pits" suffered the worst conditions. Here were the debtors, in dark solitary cells, and – nearby – the deepest gloomiest dungeons.
Outside the exercise yard gives its glimpse of the sky in the shadow of a noose with genuine graffiti carved onto the ominous high-walls. Later, you can stand where condemned prisoners would have stood above a trapdoor made for hangings.
Turn a corner and you've been transported to Australia – all aboriginal wall paintings and twisting strands of creeper.
Each visitor is given an inmate's number to look for among the stories of prisoners past. Oscar Wilde's cell door from Reading Gaol will soon be on display, taking its place in the UK's largest collection of items relating to law, justice, crime and punishment.
Parking is always an issue in Nottingham so walking or buses are definitely the best way to get here. The museum is just 10 minutes walk from the railway station (head through Broadmarsh shopping centre and turn right to find High Pavement). Book a joint ticket with the City of Caves to get a discount.
There's the Robe Room café for drinks and snacks and – nearby – the Hungry Pumpkin deli with good coffee and Italian wraps. For a slap-up lunch or supper, locals recommend the award-winning Iberico World Tapas in the Moorish, vaulted setting underneath the museum.
3. Go wild in Wollaton Park

Time for a break? If you're looking for peaceful lakeside views and picnics on the grass, Nottingham has plenty to offer. Wooded Wollaton Park is one of the best and it's easy to get to by bus. Follow Good Journey's directions.

Stroll through Old Market Square, over the tram tracks, and up Angel Row to catch bus 35 or 36 from stop A4. Between them they leave every five minutes and they both stop at Wollaton Park Gates on Derby Road.
Nottingham buses don't give change.
Cross the road from the bus stop and go straight in through the little wooden doorway. Immediately, you find yourself in a peaceful landscape of bracken and foxgloves. Head diagonally left along the avenue next to the golf course to reach the water ahead. Here's a map.
Early summer sees the deer park full of frolicking young bambis and furry-antlered stags; it decks the woodland walks with purple rhododendrons and the lake with Monet-esque water lilies.
Walk along the water's edge to find coots nesting in the lilies, a willow-covered island, bristling with herons, and tree-nesting mandarin ducklings (as seen on Springwatch!) following their mum along the reed-bordered shore. Or come in autumn to catch coppery leaves reflected in the wide blue lake. Look out for herds of red and fallow deer roaming through the grassy parkland.
When you need refreshments, up the slope near imposing Wollaton Hall, there's a big café in the old stable block, serving generous slabs of cheese on toast or coffee and cake in the courtyard. You can return the way you came or see 4 below for an alternative route, passing another café – the new Wollaton 508. The wooden building that houses it, next to the playground, is the last remaining World War II hut on the site and it's named after Parachute Infantry Regiment 508.