Green City Spaces
around Britain
During the pandemic, many of us rediscovered our local green escapes from the urban jungle. These nature reserves and commons, riverside rambles and even mountains are all within easy reach of thousands of front doors. And they all have a train station within a mile or less or a bus stop outside.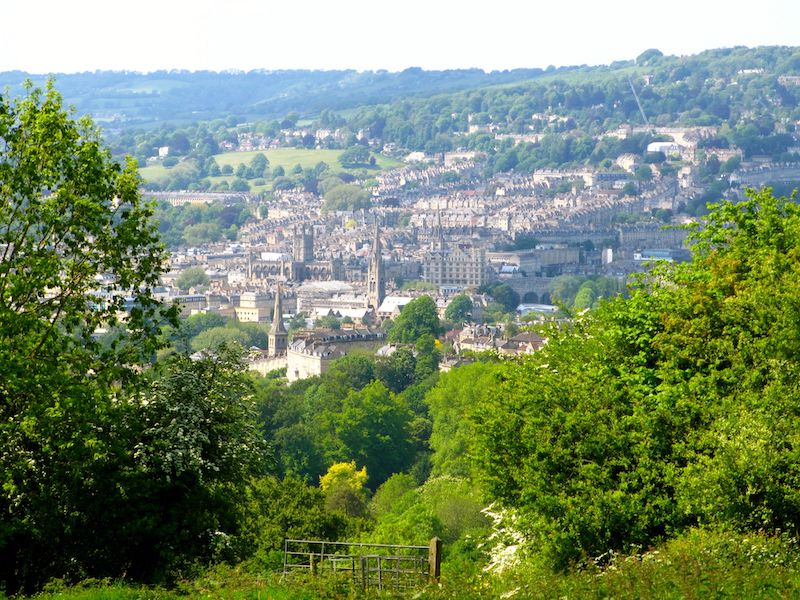 1. Calton Hill, Edinburgh

The Scottish capital boasts the ultimate urban getaway – Arthur's Seat, a towering extinct volcano, covered in grass and windswept gorse bushes, rises 250 metres above the city. But a much less energetic climb up Calton Hill is just ten minutes' walk from Edinburgh's Waverley Station and central shopping areas like Princes Street. It still earns you great views and grassy spaces. The Parthenon-style edifice on top has given Edinburgh one of its nicknames: the Athens of the North. This twelve-columned neoclassical National Monument, a memorial to Scots who died in the Napoleonic Wars, modelled on the Parthenon. There are several other buildings on Calton Hill, including monuments to Robert Burns, Nelson, and Scottish philosopher, Duguld Stewart.

Routes: Waverley Station is half a mile away (see map below). There are various maps of the hill itself online.
Alternatives: Find more ideas in our car-free guide to Edinburgh.
2. Grantchester Meadows, Cambridge

Less than a mile from Cambridge city centre and suddenly you're walking through fields of cows beside the little River Cam. Picnickers, boaters, weekend strollers, and even wild swimmers love Grantchester Meadows.

Food: Several cafes around Cambridge station do takeaways and there are shops for picnics too. Otherwise, it's all wild and retail-free until you get to Grantchester itself at the far end of the meadows. The Red Lion and Rupert Brooke pubs have reopened as well as the Orchard Tea Garden.
Routes: The nicest way to walk to Grantchester Meadows, from the centre of Cambridge or from the railway station, is through Paradise Local Nature Reserve (see map below).
Alternatives: Cambridge is full of green spaces. Very close to the new Cambridge North station, you'll find the wide waterside expanses of Ditton Meadows and Stourbridge Common. Heading into the city centre along the River Cam, you can walk through Midsommer Common, Jesus Green and the small fields behind the riverside colleges, with great views, known as "the Backs".
3. Bute Park, Cardiff

The green heart of Cardiff has so much to recommend it. Bute Park offers trails, sculptures, meadows, woods, gardens, the castle, a ruined priory and more…

There's bike hire too (book ahead online) and a chance to ride along the leafy River Taff to fairytale Castell Coch.
Routes: A ten minute stroll from Cardiff station along the River Taff, past the Principality Stadium, brings you to Castle Street. The park is just the other side of this road, beyond a wall carved with stone animals. This map will help you work out routes around the park itself.
Food: Secret Garden and Summerhouse cafes.