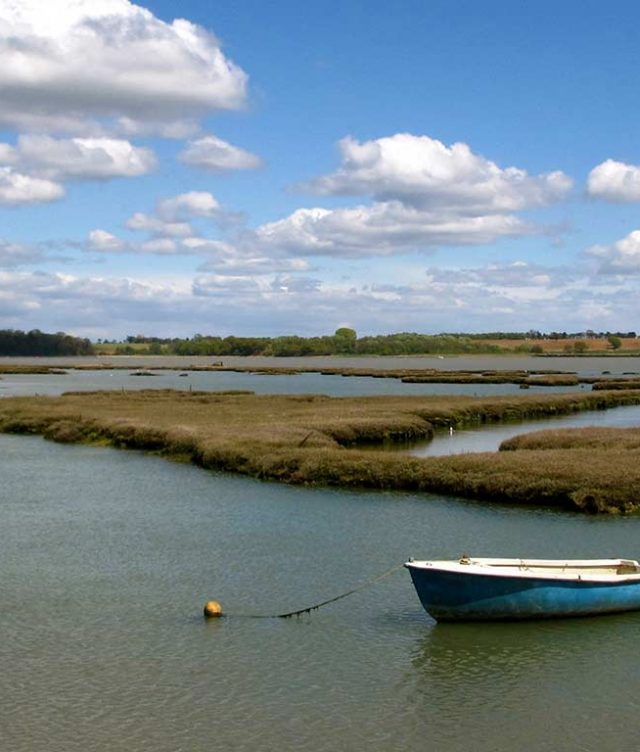 Car-free to

The Shotley Peninsula

Suffolk
Discover a salty slice of Suffolk, beginning with a scenic bus ride by the water, offering spectacular views of the Orwell estuary. The Shotley peninsula is a wild and peaceful place for a staycation and we've added a few tips on buses and places to stay at the end. There is great countryside for strolling including the long-distance Stour and Orwell Walk. Soak up maritime heritage in Shotley Gate and Harwich (seven minutes away by boat). Sample local food and drink at various pubs and the Suffolk Food Hall along the way.
1. Waterside pub and walk

Stroll through the woods or hike along the estuary.

Catch bus 97, 98 or book the flexibus from Ipswich and sit on the top deck, if there is one, for the best views. The bus leaves a few times per day (none on Sundays). Luckily, there is a pub next to the bus stop.
A day rover ticket lets you get on and off where you like. On Sundays, there are only four buses each way.
Hop off the bus after twenty minutes, in the village of Chelmondiston.
Head for Pin Mill, an easy half-mile from the bus stop, to visit the Butt and Oyster pub surrounded by sailing boats
Take a stroll through the National Trust's Pin Mill woods next door with masses of wild flowers in spring and views of the wide river.
For a longer hike, follow the Stour and Orwell Walk for five miles to Shotley Gate, through idyllic fens and atmospheric salt marshes.
2. Visit the Marina at Shotley Gate

If you'd rather ride than walk, simply get back on the bus and take it to the Bristol Arms in Shotley. It's a short walk along the road from here to the marina.

Dozens of benches look out from the marina's grassy bank, across the confluence of two huge estuaries.
Shotley Gate's free museum of HMS Ganges, where 160,000 naval recruits trained in the 20th-century, celebrates the area's maritime heritage.
A short walk along the nearby cliffs above the River Stour reveals more relics of the area's naval past.
If you love wildlife, don't miss spectacular Erwarton Bay nature reserve, a mile away along the River Stour. Look out for orange-billed oystercatchers, great crested grebe, and all kinds of other water birds.