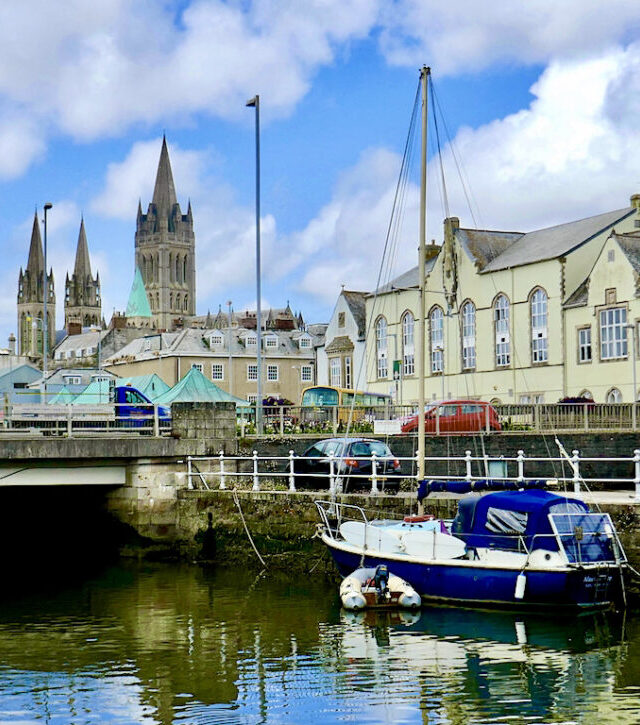 Adventures around Truro
with PlusBus
in partnership with

The spires and arched windows of a fine late Victorian cathedral tower over the quays and cobbled alleys of Truro, southernmost city on the British mainland. A centre for river trade and later for tin mining, this area of Cornwall has some great things to see, from sparkling quartz in the museum to a riverside village in the woods. Ask for PlusBus when you buy your train ticket and you can explore all day.
1. Royal Cornwall Museum

A room full of multicoloured rocks that celebrate the Cornish mining industries: delicately-branching copper ore, shining purple ruby cuprite and long crystals of tin ore. There is an eighteenth-century coach and an Ancient Egyptian Mummy case, Cornish gold and Roman glass. The neoclassical halls of the Royal Cornwall Museum house eclectic displays of local and international treasures.

Jump on bus T1 from right outside the station and you're off. One stop later, get off outside the museum. Many buses run to the museum.
An interactive wildlife gallery explores birds and animals that live in the Cornish countryside. There are stone, metal and ceramics from Cornwall and elsewhere and paintings too on the upper floor.
The pretty Victoria Gardens and impressive cathedral are both close by, a short walk away, through streets full of shops and cafés. The great Truro cafes near the museum include Bread and Butter and the Cornish Vegan.
2. Skinners Brewery

With a terrace for tasting their beers and regular tours of the brewery, Skinners riverside HQ is well worth a visit. You can find out how the beer is made and enjoy a pint of Betty Stoggs on a terrace by the tidal River Truro.

Skinners Brewery visitor centre opened its revamped tasting room and Tap Yard bar in the summer of 2021 with a big, flowery outdoor space with wooden benches.
Inside, there are displays with old ceramic jugs and tankards, posters from the brewery's history and a window onto the areas where the magic happens.
Catch almost any bus from outside the railway station or museum to Truro bus station. The brewery is a five-minute walk from here.
Exit from the bus station onto Green Street and turn left towards the carousel on the huge open quayside area. You'll find markets here and the Hall for Cornwall for plays and concerts. The old City Hall became an entertainment venue in 1997 and a new theatre was opened there in October 2021.
Turn left into the tunnel under the main road, left up the ramp on the far side and right along the riverside walkway. Simply stroll beside the Truro River until you see Skinners with its sign saying "More than just a Brewery".