Adventures around St Albans
with PlusBus
in partnership with
Once the third largest city in Roman Britain, St Albans today has some of the finest Roman mosaics and wall paintings outside the Mediterranean. You can see them in the Verulamium Museum, easy to get to with a PlusBus ticket. Just add PlusBus when you buy your train ticket or when you arrive at the station and follow the directions below. There's lots more to see and do here too: independent shops and cafes, ancient pubs and a Norman cathedral. Take a bus out of the city and you can visit a working eighteenth-century flour mill on the banks of the River Ver.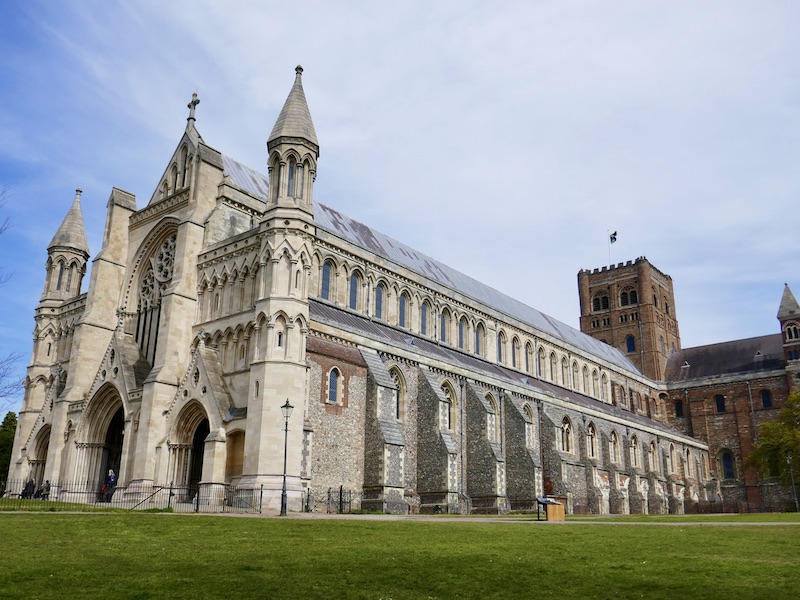 1. Visit Verulamium Museum

Here are just a few of the many adventures you could have with a PlusBus ticket in St Albans. Rich relics of the city's Roman heritage are preserved in Verulamium Museum. Verulamium was the Roman town that flourished across the River Ver from what is now St Albans.

Extraordinarily well-preserved mosaics from Roman villas in the area have images on them of gods and flowers, geometric patterns and a lion carrying a stag's head. The mosaic in a fan shape looks so fresh most visitors are convinced it is a replica. There are colourful wall paintings too and a figurine of the goddess Venus among many other treasures. Engaging interactive exhibits recreate aspects of life in Roman Britain from dogs' paw prints on Roman tiles to ornate jugs, lamps and bottles.
How do I get to Verulamium Museum by bus? Bus 302 runs every half an hour (hourly on Sundays) from St Albans City Railway Station (Stop D) to Verulam Temple, very close to both the museum and the fascinating remains of a Roman Theatre nearby. Both sights are signed and a very short walk from the bus stop.
In the surrounding Verulamium Park, you will find all kinds of interesting things, including a section of Roman wall, a cafe, play area, a mosaic floor and hypocaust. And, if you walk along the lake and turn left past Ye Olde Fighting Cocks pub to find one of the ancient city gates and, beyond it the impressive cathedral. Scroll down to 3 for more on this.
2. Take a trip to Redbournbury Mill

On the banks of the lovely River Ver, Redbournbury watermill is a working flour mill, producing stoneground organic flour from locally-grown grain. It is open on Saturday mornings and on sells all kinds of breads from the bakery next door, including sourdough and wholemeal, spe cheese and onion bread, sundried tomato or date and walnut. There are scones too, plus cakes brownies and granola slices. Even when the mill is shut, it makes a great place to start a beautiful country walk back into the city.

Bring supplies or pick up a weekend picnic at the mill for a delightful four-mile stroll back along the Ver Valley into St Albans, passing the Roman Theatre and Verulamium Park. The route is a beautiful mixture of riverside and woods, partly following the line of the old Roman Road, Watling Street. It can get a bit muddy in winter, when you might prefer to hop back on the bus after a stroll around the area.
How do I get to Redbournbury Mill by bus? From St Peter's Street (Stop 12) catch bus 34 (heading towards Dunstable) to the stop called Redbournbury Lane. The bus leaves hourly Monday to Saturday and takes less than 10 minutes to reach Redbournbury Lane.