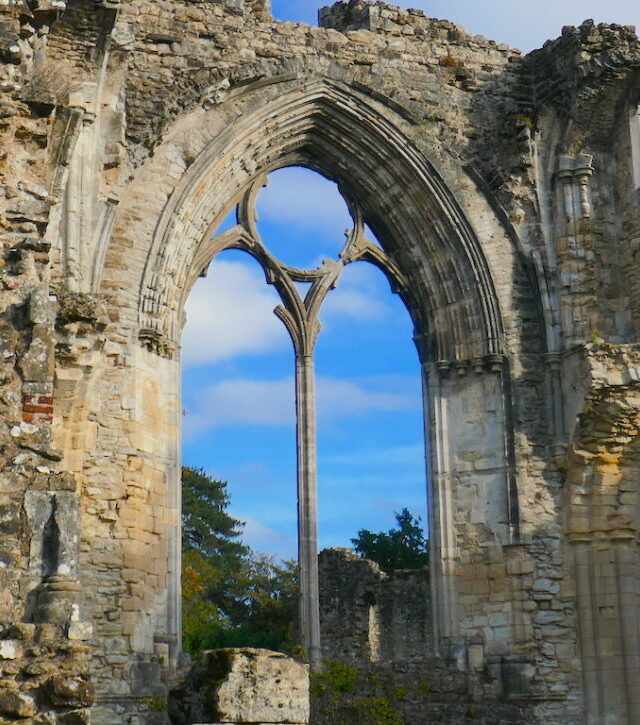 Adventures around Southampton
with PlusBus
in partnership with
RMS Titanic left from Southampton in 1912 and you'll find reminders of its famously tragic voyage in museums and memorials, including an interactive model in the Sea City museum near the railway station. Besides Southampton's maritime heritage, there are interesting buildings and museums, great food and coastal walks. These are just a few of the hundreds of adventures you can have with a PlusBus ticket around Southampton. Just add PlusBus to your train ticket for a day's unlimited bus travel around the city.
1. Through the city to the Solent

Free to enter, Netley Abbey is the most complete surviving Cistercian monastery in southern England. Horace Walpole wrote about it in a letter of 1755: 'The ruins are vast, and retain fragments of beautiful fretted roofs pendent in the air, with all variety of Gothic patterns of windows wrapped round and round with ivy….they are not the ruins of Netley, but of Paradise."

The abbey is hidden in trees not far from the water, beyond the suburbs southeast of Southampton. One way to get close is to take bus 17 from Southampton Central station and then stroll half a mile along the wooded coast path. This route gives you a whistle-stop tour of the city sights on your way there and views over the Solent.
Bus 17 passes Bargate, a castellated medieval gatehouse that was once the main entrance to the city. After this, look out for more remnants of the old city walls, including the Arundel Tower and the Castle bailey walls near the West Quay shopping centre.
If you sit upstairs on a double-decker bus, there are big views as you cross Itchen Bridge (no need to pay a toll when you're on the bus!) Look right to see out into wide Southampton Water, with its startling mix of docks, marinas, refineries and nature reserves. There are more glimpses of the water as you meander through Woolston and Weston.
Get off at the stop called Hurstbourne Place and head downhill, following a winding tarmac path to the water's edge. Turn left along the waymarked England Coast Path. At Weston Sailing Club, turn left inland, leaving the coast path and follow a tarmac path right, signed Netley Abbey. Cross the road at the end into the gates.
2. Tudor Merchant's House and Old Town

Back in the city centre, it's time to explore Southampton's Old Town. There are plenty of museums here, whether you're interested in art, aviation or history. The timber-framed Tudor House is the city's most important historic building, and you can explore more than 800 eventful years inside it and wandering through the interesting streets nearby.

Get off the bus outside the ruined, fourteenth-century Holyrood Church. Edison's coffee shop nearby is a great place for a break and refreshments if you need them with a view of Holyrood from windows. Don't miss the lime and courgette cake if they have some.
Stroll north along High Street to get a closer look at Bargate and turn left to follow the town walls. There are information panels along the way and you can use this page to help guide you.
King Edward III was so angry after fourteenth-century raiders killed Southampton residents and stole his wine that he ordered a defensive wall to be built around the quayside warehouses. His wall still exists today as the Arcades and there are some picturesque alleys nearby like Blue Anchor Lane, which leads to St Michael's Square and the Tudor House.
Do have a look inside St. Michael the Archangel Church opposite, the oldest building in the city still in use. It has all kinds of interesting features, including a stained-glass window showing the five churches of medieval Southampton, of which this is the only one left.
Follow narrow Church Lane on the right of the church and cross into St Michael's Street to get back to Holyrood church. From here, there are lots of buses back to the station, including bus U1A. Stay on this bus beyond the railway station to visit another interesting part of the city with some great pubs and restaurants…