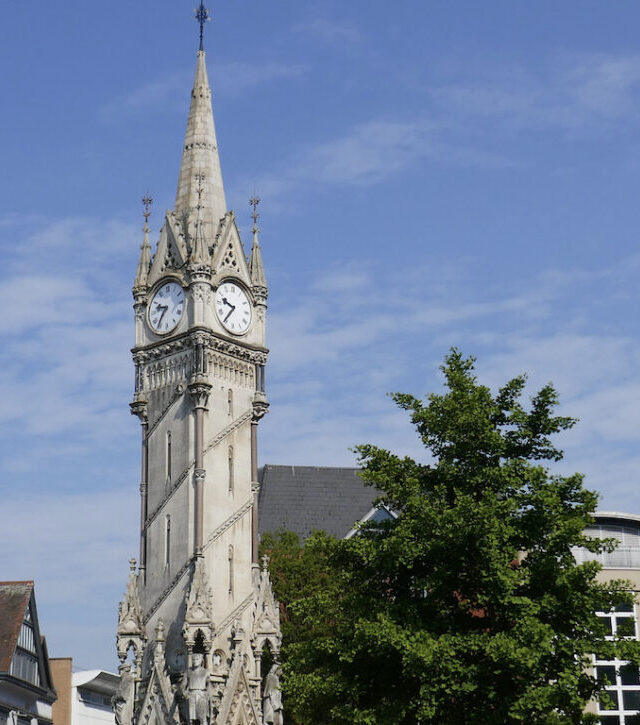 Adventures around Leicester
with PlusBus
in partnership with
History permeates the streets, waterways and warehouses around Leicester, one of England's oldest cities. There are Roman remains and a medieval guildhall, Victorian factories and an elegant memorial clocktower. The body of King Richard III, discovered under a car park in 2012, is now reinterred under in a dramatic museum. Ask for PlusBus when you buy your train ticket and you can travel all over the city and beyond for the whole day. Here are just three of the adventures you could have with a PlusBus ticket.
1. Visit the ruined abbey

Beautiful all year round, Abbey Park makes a great family destination with its sensory garden, play area, pets' corner and miniature railway. Like so many corners of Leicester, there are rich historical traces: the ruins of the twelfth century abbey, founded by the second Earl of Leicester, and a statue of Cardinal Wolsey, who collapsed and was buried here in 1530 whilst riding from York to London.

How do I get to Abbey Park by bus? Bus 54 from Leicester's Haymarket bus station stops at the gates every few minutes.
How do I get to Haymarket bus station? Several buses run between Leicester railway station and Haymarket bus station. These include bus 44 and bus 44A from stops EH and EG respectively outside the station, which run every 15 minutes between them.
Is there anywhere to eat? Peppercorns' Abbey Park café serves up breakfasts, sandwiches, coffee and cake in a parkland setting.
2. National Space Centre

You can visit the UK's largest planetarium, six interactive galleries, a 42-metre-high rocket tower and thousands of space-related exhibits at the National Space Centre. And there's the new Tetrastar Spaceport, replicating the wonder of a low-orbit cruise around Earth. Inside the hi-tech tower that was specially designed to house the centre's tallest artefacts, you can see real rockets and moon rock.

How do I get to the National Space Centre by bus? Frequent bus 54 from Leicester's Haymarket bus station stops near the centre every few minutes. See 1 above for details on reaching Haymarket bus station. Get off bus 54 at the bus stop called Space Centre, cross the road towards Asda and walk along Exploration Drive.
If you are already in Abbey Park (see 1 above), it's a short walk along the river to the National Space Centre.
Is there anywhere to eat? Besides Boosters café in the centre itself and the café in nearby Abbey Park, the National Space centre is about fifteen minutes' walk from Leicester's Golden Mile with its wealth of Indian Restaurants.