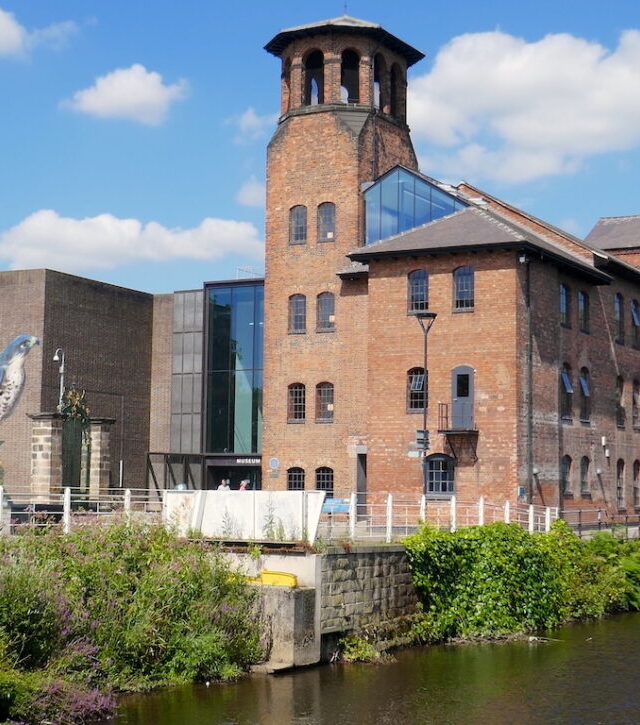 Adventures around Derby
with PlusBus
in partnership with
Riverside walks, innovative galleries, an ice cream dairy on a working farm, and gardens full of huge, candyfloss-sized hydrangeas... here are just a handful of the many adventures you can have in Derby with a PlusBus ticket. Ask for PlusBus when you buy a train ticket to Derby and you can travel all over the city and beyond all day.
1. Visit the Museum of Making

Wood, stone, metal, ceramic, organic, glass, textile, and synthetic… the Assemblage at Derby's new Museum of Making categorises objects according to what they are made of, leaving visitors to plot a unique path through the fascinating labyrinth of objects that celebrates makers past, present and future. The museum is housed in Derby Silk Mill and is dedicated to the area's creative heritage. Among the world's first modern factories, Derby Silk Mill is one of the Derwent Valley Mills that are are now a UNESCO heritage site.

How do I get to the Museum of Making by bus? Step out of the main entrance of Derby railway station onto Railway Terrace and you'll see bus stop S1 ahead of you. Bus 1A stops here every 20 minutes and takes just five minutes to reach the bus station. Turn right out of the bus station and right again just after the Holiday Inn, then left along the river to the Silk Mill – about eight minutes' walk.
Alternatively, if you've just arrived in Derby by train, you might like to walk into town along the river. Turn right from the front of the station along Railway Terrace until you reach the Derwent and then left along it – it takes about twenty minutes to reach the Museum of Making this way. You will still find lots of use for your PlusBus ticket later on.
From a section of Bronze Age log boat, hollowed out of an oak tree more than 3000 years ago, to the original Tomb Raider computer game, developed in 1996, Derby has been making new things for millennia. Contemporary exhibits include Toni Buckby's interactive, glowing silk-moth cocoons (pictured), hanging in the Throwing Room and channelling the area's tradition of weaving and textile manufacture.
Don't miss the River Kitchen, serving up specialities like Derbyshire oatcakes and hot drinks in cups that have been handmade locally.
2. Darley Abbey and Park

Britain's biggest collection of hydrangeas may not be something Derby is famous for, but when these massive flowers are in bloom they are a truly marvellous sight. You can find Hydrangea Derby in Darley Park, a peaceful riverside area with a path along both sides of the River Derwent. Nearby, the historic village-suburb of Darley Abbey has a choice of pubs, some pretty lanes to explore and a frequent bus service.

How do I get to Darley Abbey by bus? TrentBarton's cheerful orange buses known collectively as "the sixes" run between Derby bus station and Darley Abbey every 15 minutes. Simply hop off outside the Broadway pub, cross over and stroll a couple of minutes down leafy Darley Park Drive to the park gates. Alternatively, you can walk from the Museum of Making about a mile along the Derwent.
The hydrangea collection includes hundreds of different varieties in a range of colours. Nearby, there's a butterfly garden, full of sunflowers, goldenrod and other butterfly-friendly plants in summer. In spring, there are daffodils and tulips and in autumn, the park's trees produce a lovely display of colour, reflected in the Derwent as it curves through the grassy banks.
There are several places for refreshments including Darley Park tea rooms, the Papermill Pub or The Broadway, right next to the bus stop.