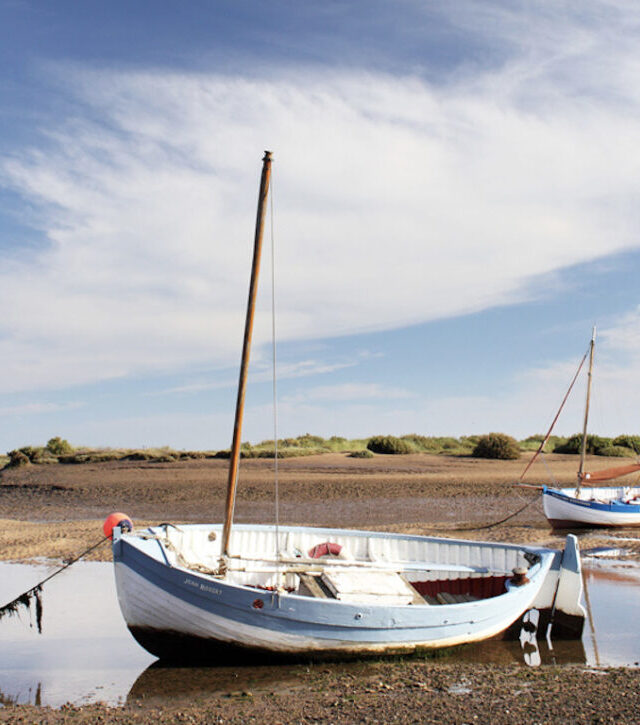 Car-free adventures around

West Norfolk

Norfolk
in partnership with
West Norfolk is sometimes overlooked by tourists racing for the Norfolk coast and the Broads. But King's Lynn and the other towns, villages and countryside nearby are packed with rich heritage and unique wildlife. And you can reach most of the area without a car, taking a beautiful journey by train, bus, bike, foot or even leisurely sailing! Here are just a few of the great car-free adventures you can have in West Norfolk.
1. Get the train to King's Lynn

Have a relaxing drink on the cobbled quay beside a wide, seagoing river. Cross over by ferry to see the old waterfront houses from a new angle. Wander through medieval streets and gardens, packed with museums and galleries, cafes, monuments, markets and more. King's Lynn makes a great hub for adventures in west Norfolk.
2. And to Downham Market

Stop off in Downham Market on a Friday or Saturday and you'll find the market that gives the town its name still going strong. You can buy provisions for a picnic in the nearby countryside or local produce to take home as a souvenir. Lots of the houses are built from distinctive local carrstone, warm and golden-brown, earning Downham the nickname "Gingerbread town". In the Town Square near the market stalls, there's a smart black and white clocktower.

How do I get to Downham Market's Town Square without a car? Trains from London, Cambridge and King's Lynn arrive hourly at Downham market railway station. From Norwich, you can also go by train via Ely in an hour and 20 minutes. Come out of the station and walk along Railway Road and Bridge Street to the centre of town with its shops, cafes and market.
Before leaving the station area, you could visit the Willows nature reserve, a wild oasis full of birdsong with reed-fringed ponds. And, from the junction with Bridge Street, you can detour into Priory Road for Discover Downham Heritage Centre.
Some of the great country walks near Downham Market include stretches of the Fen Rivers Way. Walking beside the River Great Ouse means the chance to spot waterbirds, including herons, cormorants, gulls, geese and great crested grebes.