Car-free adventures to

Places kids will love

around the UK
Children of all ages will enjoy the range of things to do at these very varied places: gardens and cottages, caverns and wildlife parks, museums with a story to tell and fairytale manor houses. Many of them have regular activities for kids like discovery trails or craft workshops. You can learn about animal poo or how to build a bird box, find out what's under the earth or ride a cable car up in the air.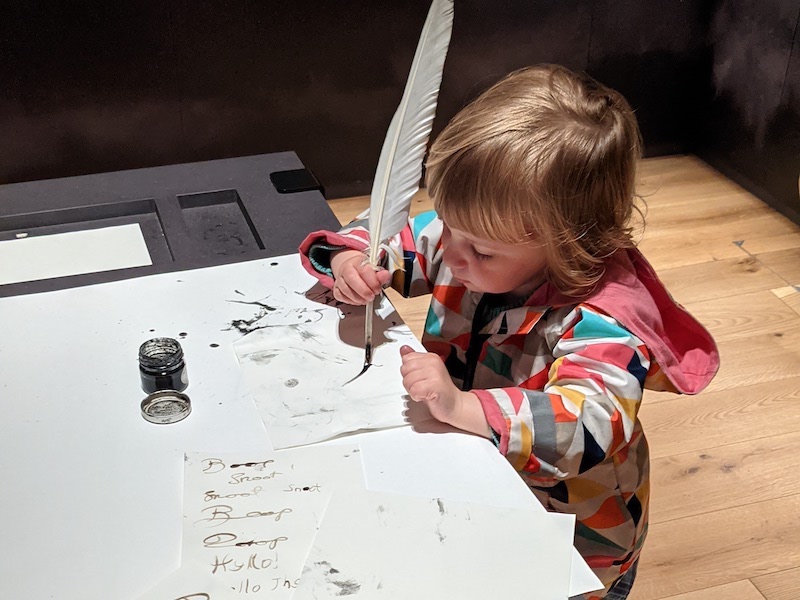 RHS Gardens

The inspirational RHS gardens are great places for kids to discover more about plants while having fun in green outdoor spaces.

At RHS Bridgewater in Salford, there's a new seven-acre woodland play area, designed to encourage creativity and adventurousness. There are swings for kids of all ages, mud kitchens, hobbit holes and fairy houses. There are regular activities too like storytelling and trails to follow.
RHS Rosemoor in Devon has several areas for kids to enjoy including the a natural play among the pine trees with living willow structures, a sand pit, slide and climbing frames. There are bug magnifiers too to learn more about the insect world. There is a flower pot ma in the fruit and veg garden and interesting trails to explore.
At RHS Hyde Hall  there's a 7-metre-high tower in the woods along with slides, rope swings, wobble boards and more.
How do we get to RHS gardens without a car? Follow the Good Journey directions to RHS Bridgewater, RHS Rosemoor or RHS Hyde Hall and get great discounts for arriving car-free.
What can we do when we're peckish? There are excellent cafés at all the sites where you can tuck into things like jacket spuds and pasties, soups, cakes and sarnies.
The Heights of Abraham, Derbyshire

Fly up in a cable car over the wooded crags of the Derwent Valley for spectacular views across the Derbyshire Dales. At the top of the cliff, you can explore colourfully floodlit caverns, full of gleaming crystal and towering structures formed over hundreds of thousands of years underground.

Kids will love the cable car ride, the two adventure playgrounds, climbing the spiral staircase up Victoria Prospect Tower, and the excitement of being inside a maze of ancient caves. There's also a new nature and butterfly trail through the woods.
In spring 2022, the heights unveiled several new attractions, including a sculpture trail and a costume exhibition.
How do we get there? Follow Good Journey's directions and get 20% off entry for arriving car-free.
What can we eat and drink? There are several options, with fabulous views and serving up pizza and chips in the Vista restaurant or a snack box at the Terrace café. Plus brownies, cakes and hot chocolates.
Pensthorpe Natural Park

With its 700 wild acres and a great range of plants and animals, birds and insects, Pensthorpe puts families in touch with nature. There are coral pink flamingos, smart black and white avocets, tall cranes and little bearded reedlings. There's a huge indoor play adventure and an outdoor eco-playground with towers and zip-wires, slides and tunnels. And there are sculptures spread out through the park, with its four different gardens: a face in a birch trunk, an owl on a mossy branch or a huge butterfly in the woods.

How do we get to Pensthorpe? Follow Good Journey's directions and get £4 off for arriving by bus or bike.
What can we do when we're peckish? Pensthorpe has a great café with a kids' menu. It offers ciabatta pizzas, locally-sourced sausages and chicken goujons with chips or spuds and baked beans or veggies.
Find more in our guides to Norfolk, the Coast Path and Christmas.