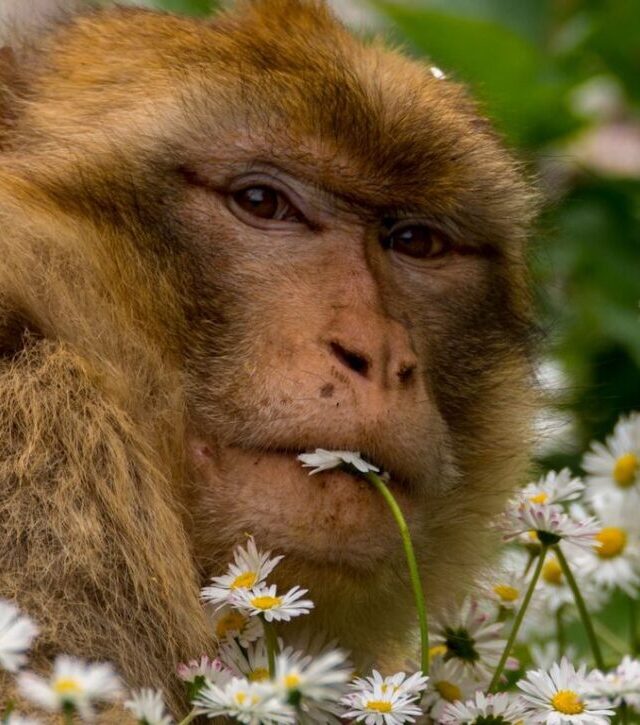 Adventures around Stoke-on-Trent
with PlusBus
in partnership with
Explore Stoke-on-Trent and its surroundings by bus. The city is a union of six towns. Hanley is home to Stoke's cultural quarter and the Potteries Museum with its Anglo Saxon treasure and Staffordshire ceramics while the railway station is in neighbouring Stoke-on-Trent, the town which gives the city its name. You can reach surrounding towns too, like Newcastle-under-Lyme or Biddulph, and it's easy to find countryside here too. There are some great things to see near the city: a forest full of free-roaming monkeys and a Victorian garden full of unexpected corners... Just add PlusBus to your train ticket for unlimited bus travel in the area all day.
1. Trentham Monkey Forest

Sixty acres of ancient Staffordshire woodland, full of ferny valleys and moss-trunked mature trees, is now home to 140 free-ranging monkeys who peacefully live as they would in the wild, untroubled by their human visitors. Trentham Monkey Forest opened in July 2005 and nearly 100 baby macaques have been born there since then.

These gentle, endangered Barbary macaques are beautiful to see close up as they eat, cuddle, groom each other, and climb through the high leafy branches. There are tiny new baby monkeys and grand old veterans of more than 25-years-old (roughly 100 in human terms).
Barbary macaques originally come from Algeria and Morocco and are sadly endangered to the point where there are fewer than 8,000 Barbary macaques left in the wild. Flying to see them will do nothing to help alleviate climate change, but visit Stoke-on-Trent by train with a PlusBus ticket and you can catch the bus to the forest gates.
How do I get to Trentham Monkey Forest by bus? From Stoke-on-Trent railway station, catch a bus to Hanley bus station. Lots of buses make this eight-minute journey, including bus 9, bus 21, bus 23, bus 25 and bus 40. Your PlusBus ticket is valid on all of these and, between them, the buses leave every few minutes. From Hanley bus station, catch bus 101 to the stop called Monkey Forest and follow the signs along the drive.
You could easily spend all day in this area. There are country walks and cafes here and a host of other attractions. There are Treetop Adventures nearby and one stop on the bus (or a lakeside walk) back towards Stoke, you'll find Trentham Gardens. See Good Journey's directions.
When you've finished, hop back on the 101 to Hanley, where there are lots more places to visit.
2. Potteries Museum and Art gallery

Five minutes away from Hanley bus station in the heart of Stoke-on-Trent, the Potteries Museum and Art Gallery  has some extraordinary sights. At the glowing heart of the museum is the Staffordshire Hoard, the biggest collection of Anglo-Saxon metalwork ever unearthed. In 2009, a detectorist exploring an ancient field, thirty miles from stoke, found this extraordinary trove of gold and silver from different Anglo-Saxon kingdoms.

The immersive gallery that now houses the hoard opened in July 2022 and reimagines the lives of the people living in Anglo-Saxon Mercia with sounds, digital characters and reconstructions.
In the basement by the cafe, there is also a new Spitfire Gallery, which opened in 2021 to showcase the World War 2 fighter plane and the designer Reginald Mitchell was born in Newcastle-under-Lyme.
The world's finest collection of Staffordshire ceramics is waiting upstairs with displays that range from prehistoric pots to experimental modern artworks. There are masterpieces from world-famous Staffordshire factories like Wedgwood and Spode. Look out for the earthenware and majolica peacock from Minton, modelled in 1873.
The entrance to the Potteries Museum is right next to a bus stop (Stop B1 Bethesda Street) with lots of routes passing and the city centre (Hanley) bus station is just a short walk away (see number 1 above for some of the bus routes from Stoke-on-Trent station).
One of the routes passing the museum is the yellow bus 9 to Biddulph, a town in the Staffordshire countryside near Stoke. See number 3 below for more adventures in this area on the northern edge of the PlusBus zone.