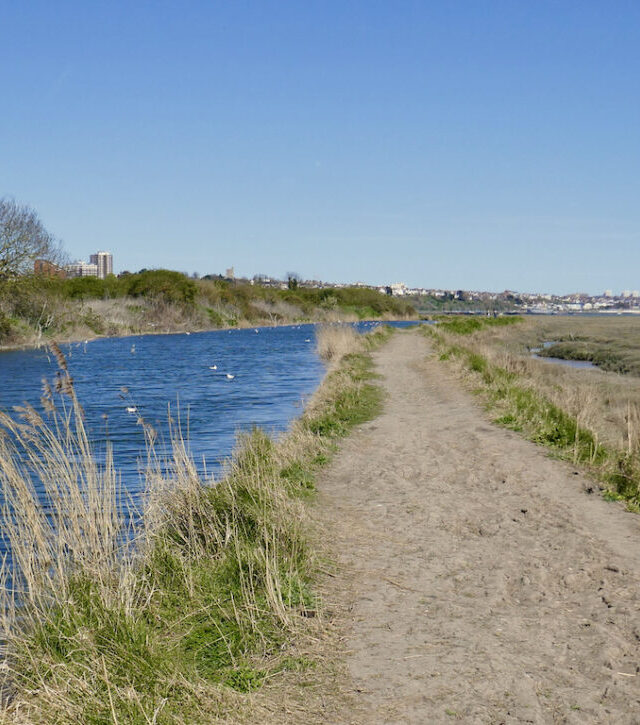 Adventures around Southend-on-Sea
with PlusBus
in partnership with
With the world's longest pier and a kiss-me-quick reputation, Southend-on-Sea draws millions of visitors each year to its sandy beaches and cheerful seafront cafes. But did you know that wild saltmarshes, where you can spot rare wading birds from the well-signed coast path, are just a bus ride away? Or that you can hop on a bus past Priory Park to try out the gourmet seafood cafés in historic Leigh-on-Sea. Southend was awarded city status in 2022. See all sides of this new city with a PlusBus ticket; simply ask for PlusBus when you buy a train ticket for unlimited bus travel all day across a wide coastal area.
1. Scenic bus ride to the beach

Southend-on-Sea has several long, sandy beaches and a lot of seaside attractions. At 1.3 miles long, Southend Pier is the longest pleasure pier in the world. A little railway can take you to the far end or you can work up an appetite for fish and chips and ice cream at one of the pier's many cafés.

The pier and lots of the city's other attractions are just a short walk from Southend Central station or a slightly longer walk from Southend Victoria. Places like Adventure Island and Sealife Adventure are fun family destinations on the coast.
One of the area's quieter beaches, is Shoebury East with its blue flag and grassy space for picnics. It's easy to get to on the number 9 bus from Southend Victoria.
Bus 9 runs from Rayleigh, right through the middle of Southend, and ends by Shoebury East beach. You can get on it at Southend Travel Centre (stop G) just a couple of minutes' stroll from Southend Central Station. The bus soon heads towards the seafront, passing Sealife Adventure, and passes two miles of beach along Thorpe Esplanade before heading north to Shoeburyness and more beaches.
2. Lunch in Old Leigh

Just a few miles westwards along the mighty Thames estuary, Leigh-on-Sea was once a busy medieval port. In the eighteenth and nineteenth centuries, the port silted up, the railway arrived and day-trippers gradually replaced the traders while fishing boats sailed out instead of huge seagoing ships. What's left today in Old Leigh is a charming town of cobbled streets and friendly pubs, weatherboarded cottages and rows of fishmongers' kiosks, selling all kinds of seafood, including cockles, winkles, razor clams, crab, lobster, whelks… You can tuck into plates of fresh fish sitting outside by the water.

Sounds great! How do I get to Old Leigh by bus? Bus 21 from Southend Travel Centre (Stop C) runs through Leigh-on-Sea on its way to Hadleigh. The bus rolls past Priory Park, with an old walled garden and the remains of Prittlewell Priory. Look out later for views of ruined Hadleigh Castle. Get off after half an hour at Belton Way East. Turn sharp left down Hadleigh Road and cross the footbridge over the railway to reach Old Leigh. It's about five minutes' walk.
The cobbled streets are packed with pubs, cafe and fish shops and you can take your pick. There's a small Heritage Centre too in the old smithy.
Osborne's is a historic family-run fish merchants with a cafe that is right by the water. Sit by the estuary and eat chips, cockles and samphire or even half a lobster, half a pint of whelks or hot chilli mango prawns!
If you need a walk after lunch, nearby Two Tree Island is the place to spot wading birds, saltmarsh plants and a wrecked fishing boat/art-installation.